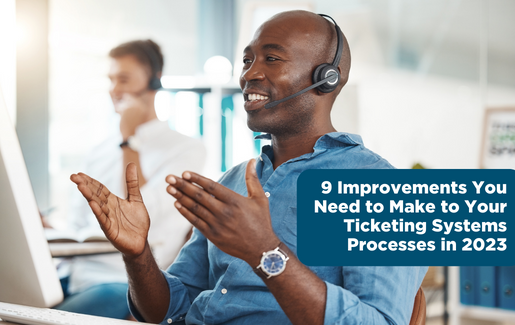 Ticketing systems have become an integral tool for most large companies. Rather than staff a call center full of help desk resources or rely on emails to help resolve issues, most organizations implement a ticketing system to keep IT in the know and on the job. But, like email, ticketing systems can quickly become overwhelming and convoluted if they aren't implemented and managed properly. Here are nine improvements the help desk needs to make to ticketing system processes this year.
Related Content: How Smart Is Your Help Desk?
1. Create a Library of Past Tickets
Do you know why companies put out FAQs? Because they get tired of answering the same questions over and over again. The help desk understands this problem more than most. Users tend to submit tickets for similar problems. Your ticketing system should have an easily searchable library of past tickets with appropriate tagging so that the help desk can quickly and easily find resolutions for issues that have already been solved.
2. Provide Self-Service Options for Simple Tasks
According to Heretto, 88% of customers expect access to a self-service help portal. Your users are accustomed to using technology and if they prefer to solve their own problems, you should empower them to do so. Implement self-service options for as many tasks as possible. Leverage user education to help your people tackle common issues and resolve them without the input of your help desk and you'll see a reduction in ticket frequency and a boost in efficiency.
3. Embrace the Knowledge Base
One great option for self service is a knowledge base. Zendesk tells us that 91% of users would use a knowledge base as long as it meets their needs. Compile an easy-to-search, user-friendly knowledge base and allow users to be more self-sufficient.
4. Try Out a Chatbot
According to Dashly, 88% of users conducted at least one conversation with a chatbot in 2022. Chatbots are a great way to use artificial intelligence (AI) to reduce mundane, routine tasks. Chatbots can answer simple inquiries and even direct users to the right place to execute a task or find the right information.
5. Update Your SLAs
Service level agreements (SLAs) are an absolute must when it comes to ticketing systems. Your SLAs act as an agreement between IT and users and establish an expected turnaround time for ticket resolution. This helps with smoother issue resolution because users won't bombard IT with constant inquiries about updates. It also helps keep IT honest and doesn't leave issues hanging around for longer than necessary. SLAs make time for ticket resolution common knowledge.
The problem here is that technology, personnel and processes are constantly in flux. As a result, you should regularly be evaluating and updating your SLAs as needed to align with any upgrades or changes. Evaluate your metrics and identify areas where you can modify your agreement to reflect more realistic expectations. It's always a good idea to make sure your SLAs align with business priorities as well.
6. Make Your Ticketing System Mobile Friendly
Perillon tells us that 87% of businesses have implemented mobile apps for use by employees. Mobile apps are popular because we can do more work on the go. Now, it's time to give that same functionality to your help desk. Make sure your ticketing system offers a mobile-friendly version so that IT can update and manage tickets from their devices to speed up response and ticket resolution times. With more and more decentralized teams and help desk staff that are overwhelmed with tickets, a mobile-friendly option can boost productivity and speed up ticket resolution time.
7. Automate Ticket Assignment Where Possible
One of the most time-consuming tasks for the help desk is figuring out where tickets should go. Apply automatic workflows to assign tickets to active agents and the best resources for specific tasks to avoid costly re-routing. One LinkedIn article shows that AI-driven ticket prioritization can have significant benefits and increase help desk productivity by up to 20%.
8. Enable a Singular View of User History
Gladly reports that 86% of customers want to be able to have seamless conversations regardless of what channel they use. By enabling better tracking of customer interactions and a singular view of all conversations with users, the help desk will be able to better attend to customer needs and have a running history of what has already been tried.
9. Train Users on How to Use Ticketing Systems
Admittedly this one may have a few of you thinking this is obvious. You'll likely be surprised to learn that many users simply lack the training needed to know where to find their answers and when you should submit a ticket to support teams. Make education an organizational priority and integrate the instruction into your onboarding procedures and you'll see better usage of your ticketing systems.
Efficiency is an ongoing, never-ending goal. Making some (or all) of these updates to your ticketing system processes can help get you there, but frequent maintenance and attention will keep you there.
Get more tech insights like this right in your inbox with CompTIA's IT Career Newsletter. Subscribe today, and you can save 10% off your next CompTIA purchase.