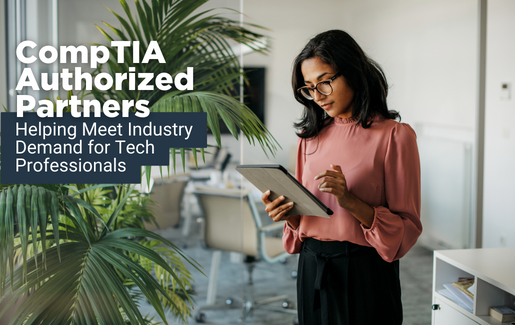 Technology powers the world and is deeply engrained in all facets of business activity and everyday life, providing countless opportunities for learners looking to kickstart and grow a tech career. And all signs point to the fact that hiring of tech professionals across all verticals has not slowed down.
CompTIA's Tech Jobs Report suggests that tech job posting activity in areas like software development, IT support specialist, systems engineering, IT project management and cybersecurity continues to rise, adding to the sentiment that hiring managers are looking for candidates with unique skills to fill in-demand tech roles.
According to CompTIA's State of the Tech Workforce 2023 report, technology accounted for 9.2 million jobs in the United States in 2022, and that number is expected to grow to 9.4 million in 2023. On the spending side, Gartner estimates that 2023 global IT spending will reach $4.6 trillion, an increase of 5.1% over 2022. As you can see, the importance of technology in our modern world is growing, and the demand to train learners with unique skill sets that prepare them for jobs in tech is not going away anytime soon.
The Industry Demand: What Employers Are Looking For
With the breakneck rate of evolution in the tech industry and many organizations going through digital transformations, new and changing job roles are popping up every day. This leaves myriad tech jobs unfilled due to lack of skilled professionals with the knowledge and expertise needed to perform the functions these roles demand.
Employers in all verticals are looking for professionals with not only advanced technical skills in areas such as networking, software development and cybersecurity, but also durable skills like communication, the ability to work well on a team and strong foundations that help them to be flexible, innovative and productive on the job.
This demand isn't specific to tech companies. CompTIA's State of the Tech Workforce 2023 report suggests that 58% of tech jobs are in non-tech companies and tech job posting activity in top industries such as professional services, manufacturing, information, and finance and insurance reached roughly 200,000 in March of 2023 alone.
Undeniably, technology plays a notable role in an organization attaining strategic business objectives, and tech professionals are the key to their success. However, hiring managers and HR professionals looking to hire tech talent face countless challenges that make hiring people with the right skill set a difficult task, including:
A widening skills gap and a lack of skilled tech professionals
The rapid evolution of technology
Confidence gaps
Continued macroeconomic challenges
According to CompTIA's Job Seeker Trends research, one in three job seekers report being stuck in a rut and wanting a change, but 37% of Gen Xers and 34% of Gen Zers express the concern that they are too far behind or lack the skills necessary to work in tech.
With the rapid pace of technological evolution, there simply aren't enough skilled and certified professionals to keep pace. Pair that with the fact that many job seekers hold the perception that technology is relatively more difficult to transition to than others. This is often referred to as the "confidence gap" of real or perceived barriers that deter consideration for pursuing a tech career.
Access to IT training and certifications helps to bridge the confidence gap and encourage learners looking to get their foot in the door to IT.
The Value of CompTIA Certifications
While there are IT pros who have computer science degrees, there are others that have business degrees, communications degrees or no degree at all. And while getting a four-year degree is a great step, thanks to certifications, it's not the only next step for learners looking to pursue successful, fulfilling lucrative careers in technology. For learners looking to make a career change, prior experience and transferrable skills such as creativity, problem-solving and attention to detail make them appealing and successful candidates for IT jobs.
Pearson Vue's 2023 Value of IT Certification Employer Report suggests that 81% of certified candidates produce higher quality of work, 77% are more innovative and 72% are more efficient, making it clear that learners are not the only party benefiting from certifications. Employers understand and appreciate the value of certified candidates and notice the impact they have on the work of certified employees.
CompTIA certifications are among the most highly recognized and respected IT certifications in the world. They make kick starting and growing a tech career attainable for anyone. Employers can be certain that CompTIA-certified learners have a strong foundation of knowledge, skills and practical experience they need to succeed in a particular area of IT. And the vendor-neutral nature of CompTIA certifications also makes them highly versatile and applicable across various IT environments and industries, opening countless opportunities for CompTIA-certified learners.
The Value of CompTIA's Partner Program
As the leading technology industry association, CompTIA is dedicated to unlocking learner potential, bridging the confidence gap and helping meet the industry demand for tech professionals.
Through our robust partner program comprised of thousands of training delivery organizations, academic and government agencies and contractors, we work together to educate, certify and train new generations of tech professionals.
"One of CompTIA's goals as an association is to foster and grow the tech workforce. In partnership with training organizations, who participate in our Authorized Partner Program, CompTIA can get closer to achieving this goal and closing the skills gap," said Tara Dean, senior director, business development, CompTIA.
Related Content: Empowering Instructors and Improving Learner Success with CertMaster Learning Solutions
Through our partnership, we provide valuable guidance and resources to help you train and prepare learners for not only what's now, but what's next.
Learn More about CompTIA's Partner Program