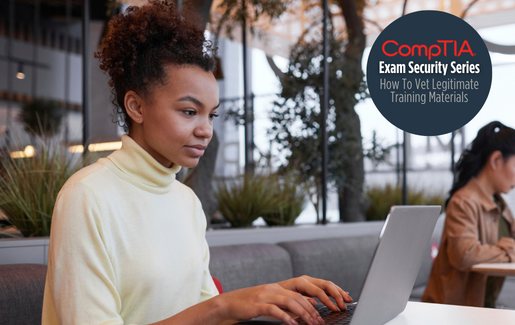 Congratulations! You've taken the first step toward advancing your IT career by making the decision to get CompTIA certified – you're in good company. But what comes next?
Start by creating a study plan that works for you. In this plan, you'll want to determine how much time you can dedicate to learning the content and what specific materials you'll use – and this is where it can get dicey. There's no shortage of training materials out there, but which materials are legit and which ones should you stay away from?
Before you get started, check out our other articles on the importance of exam security:
It's Your Choice: A Wide Variety of Authorized Study Options
How exactly you study for your CompTIA exam(s) is completely up to you. There are so many study options available because people learn in different ways. Ultimately, this is a good thing. But sometimes, too many options can be overwhelming.
Let's take a look at your choices:
In-person classes are for candidates who have the time, transportation and desire to be in a traditional classroom environment and receive in-person instruction.
Online classes are for candidates who have a dependable Wi-Fi connection and prefer to learn from a remote location.
eLearning platforms are for candidates who want to self-study at their own pace in a structured environment.
Virtual labs are for candidates who want to practice hands-on skills in a safe environment.
eBooks and study guides are for candidates who prefer a more conventional style of studying that includes reading and taking notes.
Videos are for candidates who want more engaging content and tend to be visual learners.
The fact is that you'll probably utilize a combination of these types of training as you prepare for your CompTIA exam (and CompTIA offers many of these types of training!). These forms of training are all acceptable, but there are red flags in each of these categories that you should be aware of.
It's Your Responsibility: Common Red Flags
Not all training content is created equal. People will always try to sell you on shortcuts – and using unauthorized training materials isn't allowed. The CompTIA policy on unauthorized materials states that a website, PDF file, social media page, chat session, etc., that contains content that is exactly the same or substantially similar to what's on the certification exam is not to be used by candidates.
Here are 10 ways you can spot unauthorized training materials:


1. Know How To Identify a Brain Dump
Brain dumps are exactly what they sound like. People who have taken a CompTIA exam pool their memories of the questions and answers into an online cheat sheet. This practice is considered a breach of the Candidate Agreement, resulting in IP theft.
In addition, those who then use such materials are essentially cheating. Instead of candidates' knowledge and skills being truly tested, they are tested on memorization. The information contained in brain dumps is also usually inaccurate. Will that help you succeed in your next job and grow in your career? Nope.
The following verbiage can signify a brain dump:
Brain dumps, braindumps, brain-dumps, dumpsactual
Actual exam questions, real exam questions
Real exam questions, real test questions
Real practice questions, real practice tests

2. Avoid Pass Guarantees
CompTIA cannot and does not guarantee you will pass a certification exam. If you see any type of guarantee that you'll pass your exam after using a set of given materials, back away. Usually these sites will promote "real exam questions" or "real practice questions" and will include a comprehensive list of any IT certification currently available – not just CompTIA – and they'll give you access to this information for one flat price.
The following verbiage can signify illegitimate training resources:
Money back guarantee, passforsure
First try, first attempt
Cheatyourexams, identical simulator, free test engine
3. Be Weary of Free or Very Cheap Resources
If a resource is free or very cheap, it may be questionable in terms of quality and legitimacy. Another indicator that a resource is providing unauthorized content is touting immediate updates in the middle of a vendor's exam lifecycle. Legit training providers do not update their training materials until there's a new version of the exam, as it's unnecessary. If the exam objectives have not changed, there's no need to update legitimate training materials.
The following verbiage can signify illegitimate training resources:
Free demo, cheap
Actualtests, dumpsactual

4. Steer Clear of All-inclusive Lists


Any website that promotes extensive lists of test questions for an all-inclusive list of certifications is suspect. This could be a website or PDF file that lists everything from CompTIA, Microsoft, Cisco and more. Training materials are not formatted this way, and this is a big red flag.

5. Avoid Platforms That Allow User-generated Content
There is no way to verify that user-generated content is correct – so why would you study from them? These resources could contain brain dump content and are equally difficult to use as a long-term reference, as new content is created daily and can be found on Udemy and YouTube. Although there are approved resources on these sites, most are not. It's best to check first.

6. Don't Take the Conversation to a Third Party
If a website requires that you use a third party to communicate – like What's App – this is a red flag. Avoid resources shared thru social media, as you may not be able to trace the source back to the original site to review. These are often brain dumps.

7. Don't Try to Clone Yourself
This may sound like a "duh" moment – but proxy testing is on the rise, both in test center environments and online testing platforms. Solicitors of proxy testing will reach out to you, often on a social media platform like LinkedIn. If a training course or individual offers for someone else to take an exam on your behalf, it's cheating and represents a breach of CompTIA's policies and agreements

8. Verify Contact Information
A simple way to weed out bad actors is by checking the contact information on the website. Look for an email, physical address, phone number or anything that indicates the source is real and reputable. If the site does not include this information, it's likely not a reputable source.

9. Read the Comments
Another easy way to get an idea of what type of resource you've found is to review the comments section in a video or site before you use it. If the comments mention real exam content, pass guarantee or any of the above-listed terms and phrases – steer clear.

10. Look For Reputable Training and Publishing Companies
Organizations like CompTIA work hard to ensure our exam preparation materials and exams are both relevant, valid and credible. There is a lot of work done behind the scenes to ensure that our certifications continue to be recognized around the world as the industry standard. When you purchase official CompTIA training solutions, you can be sure you are getting the best of the best.
It's Your New Best Friend: New CompTIA Tool
If you're in for the right reasons, choose the right training resources. There are so many approved training tools available to you that we simply can't list them all here. But to help you, CompTIA has created a new feature that will allow you to review training sources. You now have the ability to submit a URL to verify if a resource is approved content or unauthorized content.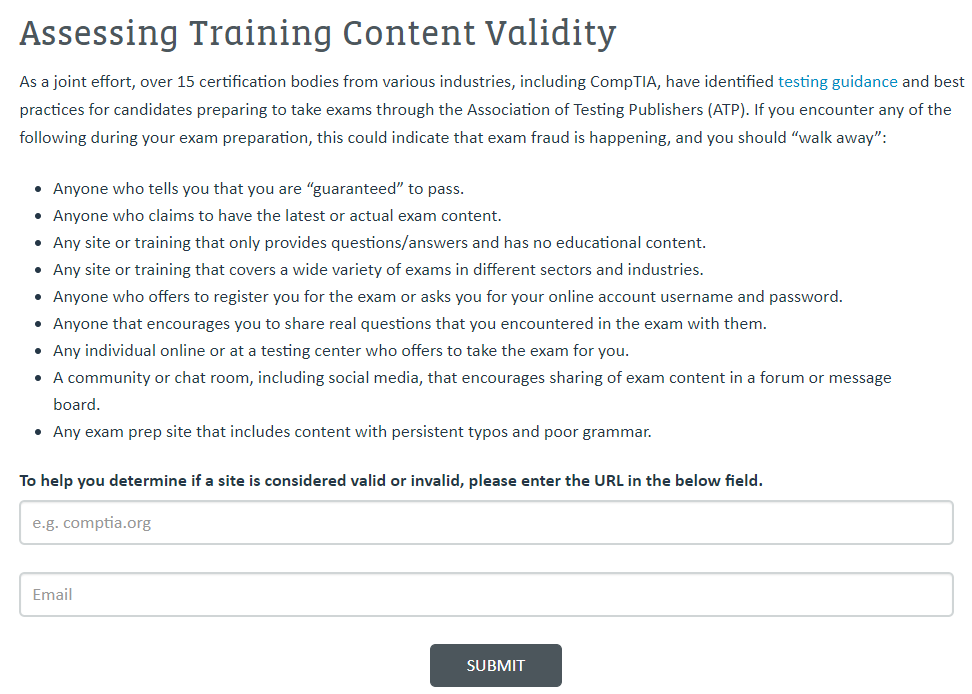 It's clear that becoming CompTIA-certified is an investment in yourself. In order to protect that investment, you need to be proactive when it comes to how and what you study – it's up to you!
Learn the skills you need with CompTIA CertMaster Learn. Sign up today for a free trial today!