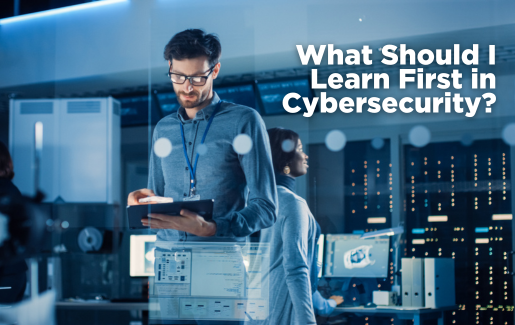 In today's threat landscape, there is a greater need for more cybersecurity within the technology industry. The increased need for skilled cybersecurity professionals only continues to grow exponentially. As cyberattacks continuously increase and become more sophisticated by the day, it has become essential for professionals to have a strong foundation in core cybersecurity concepts.
While there are many career tracks and paths to explore within cybersecurity, it can be overwhelming to know where to start. Understanding the basics of this field, such as the fundamentals of network security and the principles of incident response, are key to success.
Read on to learn more about where to start learning cybersecurity, the top skills to master, what a career path in cybersecurity looks like, some success tips and the expected timeframe to gain knowledge and experience in the cybersecurity industry.
Where To Start?
When it comes to learning cybersecurity, there are several areas that you can start researching within the field. It's important to note that cybersecurity is a broad sector of the greater IT industry. Therefore, it can seem like information overload as you start researching where to even begin in this constantly growing industry. That's why it's key to pick an area of cybersecurity that interests you first.
Before diving deep into the technical aspects of cybersecurity, it is essential to understand the core concepts used in this sector. This includes understanding the different cyber threats many businesses and consumers face, as well as the common attack methods and fundamental principles. There are countless free resources available online that summarize these topics.

Some of these resources include YouTube videos, podcasts and free online learning offered through IT certification and learning organizations like CompTIA. These resources can help you jumpstart your cybersecurity learning and help you grasp the basics of the industry successfully.
Check out these cybersecurity resources from CompTIA
Top Cybersecurity Skills To Master for Success
As cyber threats continue to grow and become more complex, the demand for skilled cybersecurity professionals in the field is escalating. In order to stay ahead of the curve and protect systems and data assets for companies, it's imperative to learn and develop the right skills necessary in this industry. Technology jobs require foundational knowledge to get started. But once you begin your career, you'll develop these skills as you gain more experience and knowledge. As your skill set builds, you'll move up the IT career ladder. Below are the top four cybersecurity skills to develop in this high-demand field.
Network Security
Network security is a crucial component and skill to learn in cybersecurity. It is the backbone of any organization's cybersecurity posture. IT pros need a deep understanding of different network architectures, protocols and devices. For example, security pros should aim to master the knowledge and expertise surrounding firewalls, TCP/IP and intrusion detection/prevention systems.

These are critical skills to master, given that these tools protect networks from numerous cyber threats such as DDoS attacks, malware, unauthorized access and other malicious network activities. Knowledge of VPNs and encryption is also crucial in order to better secure systems and sensitive data in transit. Understanding network security can be critical to ensure organizations keep their systems and networks safeguarded effectively.
Risk Management and Compliance
Risk management and compliance are fundamental cybersecurity skills. These two components often exist within larger organizations and fall under the umbrella of governance, risk and compliance (GRC). While they both fall under the GRC umbrella within an organization, both components are often adjacent to one another. Risk management relates to identifying, assessing and prioritizing security risks and taking appropriate actions to reduce them.
Compliance often involves ensuring that an organization's security practices are in line with industry standards and government regulations, such as HIPAA, GDPR and PCI DSS. Cybersecurity professionals with strong risk management and compliance skills are commonly in high demand in many industries, including healthcare, finance and government. Mastering these two sections of an overall GRC program can help you gain the skills needed to develop and implement effective frameworks that support the security initiatives of many companies.
Cyber Analysis and Threat Intelligence
Many cybersecurity roles require technical analysis skills. Two of these key technical skills include cyber analysis and threat intelligence. Cybersecurity analysts need to have a deep understanding of malicious actors and their tactics in order to stay ahead of threats. These skills require the ability to collect, analyze and assimilate the information gathered from various threat intelligence resources.
By mastering skills like threat hunting, reverse engineering and malware analysis, you'll be better equipped to identify vulnerabilities, spot emerging threats and develop effective countermeasures. These skills help organizations and their teams stay informed of the latest attack trends and tactics used by cybercriminals.
Incident Response
As cyber threats continue to grow and evolve in today's threat landscape, skills in incident response can be highly sought after within the cybersecurity industry. IT pros should aim to learn the skills necessary to detect and analyze security incidents. Most incident response skills require you to be able to determine the scope and impact of a security incident as well as containing and mitigating the issue efficiently.
Additionally, many incident response pros need to develop effective problem-solving skills, the ability to work under pressure and be able to proactively communicate across IT and security teams. Incident response skills can be crucial to help organizations recover and restore systems in the event of an incident.
What Does The Career Path Look Like in Cybersecurity?
Cybersecurity has expanded over the past few years, the more that technology and cyber threats evolve. This growth has led to an increased demand for professionals skilled at protecting businesses, governments and individuals from cyberattacks.
If you are considering a career in this field, it can be helpful to understand the common career path many pros take. In addition, it's important to understand how you can successfully progress through various roles.
Here are some of the stages and career paths cybersecurity professionals take in this industry:
Entry-level roles: Many entry-level roles require some technology experience or a degree in cybersecurity or a related information technology degree. Beginner roles in cybersecurity can also require some certifications, such as CompTIA Security+. Examples of these roles include business analyst, cybersecurity manager, systems administrator, software developer or security consultant.
Mid-level positions: Cybersecurity pros who have gained an in-depth grasp of industry knowledge and experience will often move into more complex security roles. Mid-level jobs can require more advanced certifications, such as the CISSP. These positions involve a greater amount of expertise since they require complex responsibilities, such as security architecture and risk management. Example of these roles include cybersecurity analyst, network security specialist, cybersecurity engineer and Security Operations Center (SOC) analyst.
Senior-level roles: Once cybersecurity pros have gained several years of experience, some move on to senior-level positions. These roles commonly involve more strategic decision-making, managing other cybersecurity team members and other similar leadership responsibilities. Some examples of senior-level roles include security architect, senior security engineer, Security Operations Center (SOC) manager.
Executive-level positions: These positions typically involve overseeing an organization's overall cybersecurity strategy. These can also include responsibilities for other areas, such as IT operations and risk management. Examples of executive-level roles include chief information security officer (CISO), chief security officer (CSO), chief information officer (CIO) and chief risk officer (CRO).
Tips for Success: How to Succeed in Learning Cybersecurity
Cybersecurity is a broad, but robust, industry that is constantly growing. Learning cybersecurity knowledge and skills can seem like a lot to take on, but it does not have to be.
Here are some tips to get started:

1. Take online or in-person courses: Taking classes, whether online or in person, taught by industry professionals can be key to helping increase your learning experience. It can allow you to increase your knowledge base quickly and learn directly from those already in the industry.
2. Practice with hands-on exercises: Take part in hands-on exercises and simulations, like capture the flag, to practice your skills in a safe and controlled environment. Applying what you learn in real-world scenarios is essential to gaining knowledge and expertise in cybersecurity.
3. Network and join a community: Participate and network within cybersecurity communities to learn from experts in the industry. There are many different groups on Facebook and other social media channels that allow you to connect with cybersecurity pros.
4. Stay up-to-date: Cybersecurity is a constantly evolving field. Stay informed about the latest cybersecurity threats, trends and news by following reliable sources, such as industry publications, blogs and news outlets.
How Long Does it Take To Learn Cybersecurity?
Cybersecurity is a broad field which means everybody can have a different pathway. The time it takes to learn cybersecurity skills depends on several factors, including:
Your background and experience
The area of cybersecurity you want to learn
Your learning pace
Your objectives and goals
If you are starting from scratch and have no prior knowledge, it could take several months to a year to get a solid foundation in the fundamental cybersecurity concepts, such as networking and programming. These core learning approaches are necessary in order to increase your expertise in more advanced cybersecurity concepts.
In order to become proficient in cybersecurity, you will need to continue learning and staying up-to-date with the latest threats and security trends. This learning process may take years. This is especially true if you want to specialize in a specific area, such as ethical hacking, incident response or digital forensics.
But learning cybersecurity does not have to be overwhelming. Take one skill, one step at a time and dedicate yourself to continuous learning. The cybersecurity field is ever-changing, and you must be too in order to be successful.
Ready to get started? Get the in-demand skills you need with CompTIA Security+. Download the exam objectives for free to see what's covered.