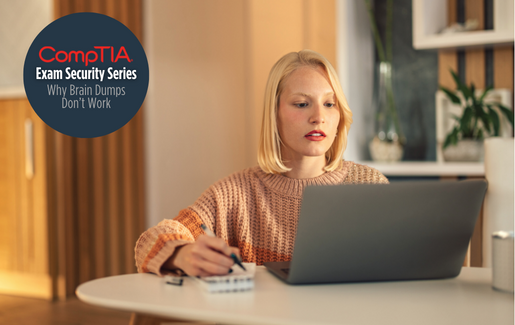 Earning a CompTIA certification is something to be proud of. It shows you have the skills you need to perform in specific IT job roles, but that certification also demonstrates your ability to succeed. To want a CompTIA certification, you must sacrifice your time and invest in yourself – that shows initiative. To pass a CompTIA certification exam, you must put in the hard work – that shows dedication. These are traits that employers are looking for. But cheating won't get you there.
Using (and contributing to) brain dumps is considered a form of cheating and a violation of CompTIA certification exam policies that could result in consequences like losing your certification and being suspended from taking CompTIA exams in the future. Not to mention, strictly memorizing exam content likely won't translate into understanding it, and most information found in brain dumps is incorrect. Check out this new guidance for test takers.
Read our other articles on the importance of exam security:
What Are Brain Dumps?
Brain dumps are the result of people taking a CompTIA exam and then pooling their memories of the questions and answers into an online cheat sheet. That's right – their memories. It's like copying off of a random person in class, you have no idea if they know the answer or not. Unfortunately, this practice has become a business.
Companies and site operators are creating legitimate-looking websites and hiring test takers to obtain exam questions so they can sell so-called test preparation tools, study guides, practice tests and other resources to people studying for CompTIA certification exams. Sometimes they advertise themselves as "brain dumps," which is your first clue to avoid them. Sometimes they promote "actual exam questions," which is your second clue to move on.
There are a few problems with using brain dumps as part of your exam preparation plan:
It's cheating. Using brain dumps is in direct violation of CompTIA policies.
Rote memorization doesn't work. You need to understand the concepts you're learning.
The information is inaccurate. Brain dumps are based on memories and perception, not facts.
Read more about brain dumps and learn better ways to study for your certification exam.
You Won't Learn IT Concepts via Rote Memorization
To fully learn the IT concepts you'll use on the job, you need to do more than memorize them. Sure, memorization plays a part in your study plan, but it's not the end all, be all.
In fact, rote memorization only works with short-term memory. The proof? Think back to material you learned in high school to get a good grade on your final exam. If you aren't engaging in that content in your daily life today, it's very likely you don't remember it at all anymore.
What does work? Hands-on practice is key to deriving meaning from the concepts you'll learn. For example, CompTIA Labs enables you to learn by doing. When you log into your CompTIA Labs account, you'll be able to apply your newfound knowledge in actual IT environments, complete tasks and immediately see the impact of your actions. Likewise, CertMaster Practice allows you to identify and fill in knowledge gaps before you take your CompTIA exam.
You Won't Learn IT Concepts by Studying Incorrect Information
Using brain dumps to study is like using an outdated textbook or an unreliable friend's personal notes that may be flat out wrong. The content found in brain dumps is usually inaccurate.
Brain dumps are created by bad actors who may not even work in the IT industry. They are compiling questions through memorization or questionable means. They aren't looking to educate you – they are looking to turn a profit. Would you trust them to give correct answers and explanations?
What does work? Engaging learning based on the most updated CompTIA certification exam objectives. CompTIA official training solutions include CertMaster Learn, an interactive eLearning tool that uses flashcards and performance-based questions – which you will see on your exam. You can also be sure that CompTIA books and study guides are based on the latest exam content.
Protect Your Certification: Report Brain Dumps
It should go without saying that creating or contributing to a brain dump holds the same consequences as using one to study – but we'll say it anyway because it's important. Oftentimes, candidates aren't aware that the brain dump material they are using is in violation of CompTIA policies.
CompTIA has investigative means and can use data forensics to identify candidates who have prior knowledge of our exams. We are actively working on removing brain dumps, so if you come across questionable exam prep materials, please report it via the CompTIA Exam Security Hotline.
When it's all said and done, there is no upside to using brain dumps. There's a very good chance the content is wrong, and there's an even better chance that you'll get caught. And even if you don't – rote memorization of correct (or incorrect) material certainly won't help you on the job. Instead, set yourself up for success. CompTIA offers everything you need to prepare for your certification exam. Explore training developed by CompTIA with options that fit various learning styles and timelines. Whether you prefer self-study or classroom training, CompTIA has you covered.
Learn the skills you need with CompTIA CertMaster Learn. Sign up today for a free trial today!