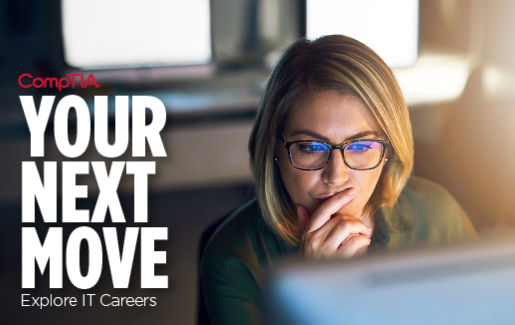 This article is part of an IT Career News series called Your Next Move. These articles take an inside look at the roles related to CompTIA certifications. Each article will include the responsibilities, qualifications, related job titles and salary range for the role. As you consider the next move in your IT career, check back with CompTIA to learn more about your job prospects and how to get there.
Many companies are switching their IT needs to cloud computing because of its efficiency and cost savings. Becoming a cloud systems administrator allows you to be on the leading edge of systems technology in heavily virtualized environments, in an IT niche that will grow as more small and mid-sized companies outsource IT departments. Cloud computing offers infrastructure, platforms and software-as-a-service (SaaS), so administrating these systems provides a novel challenge. If you have a knack for constructing and problem solving, as well as communicating complex things into everyday language, then a career as a cloud systems administrator may be right for you.
What Is a Cloud Systems Administrator?
A cloud systems administrator develops, maintains and troubleshoots the network connections of cloud computing resources.
Job duties may include the following:
Administrating the cloud system through patches, permissions and service deployments
Monitoring and analyzing network performance to match on-demand requests
Defining and implementing policies for cloud-based systems
Establishing connections to and from various cloud network types and managing firewalls
Clearly communicating with IT and non-IT professionals to ensure effective use of all services
A cloud systems administrator ensures seamless delivery of all cloud services to clients and companies large and small. It's a mid-level position that requires a lot of teamwork with other staff maintaining the wide range of cloud services offered.
In mid-sized and larger companies, there is a potential for promotion into a senior cloud systems administrator or cloud engineer position that would involve supervising a team of other cloud system administrators or being the architect of new cloud networks.
Because part of the promise of the cloud is scalability, redundancy and relative ease of access for companies without a dedicated IT team, a cloud systems administrator must have a deep knowledge of virtual machine technologies.
In addition, because cloud computing can involve very different types of platforms and software, a cloud systems administrator must be well-versed in the most popular cloud providers, platforms and software suites used by the average business user.
Cloud system administrators will sometimes work with cloud engineers. While cloud systems administrators typically focus on the day-to-day operational efficiency of cloud services, cloud engineers are more involved in the planning and design of cloud architectures.

Cloud engineers are often considered more senior to cloud systems administrators and could be your next move along the cloud computing career path.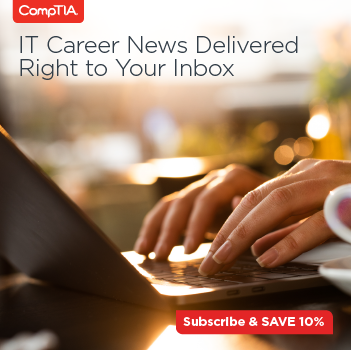 How to Become a Cloud Systems Administrator
Most companies hiring a cloud systems administrator require a bachelor's degree in computer science, computer or management information systems or a closely related field, plus 3 to 5 years' experience in systems administration.

Sometimes a master's degree in computer science is acceptable for someone with less on-the-job experience. Occasionally an associate's degree in a computer-related field, or no degree at all, is acceptable, but 7 to 13 years' experience is often required.
Cloud systems administrators often work their way up from a junior cloud systems administrator or more general systems administrator role, perhaps even starting in a help desk role.
Cloud certifications like CompTIA A+, CompTIA Network+ and CompTIA Cloud+ can help you as you become a cloud systems administrator. Check out the CompTIA Career Roadmap to see what other certifications can help you become a cloud systems administrator.
The Details
Cloud Systems Administrator Salary Range
According to Burning Glass Technologies, the average annual salary for a cloud systems administrator is $73,000.
Cloud Systems Administrator Job Outlook
This job title is evolving, and as cloud systems grow, this exact job title may become more prevalent. From June 2020 to May 2021, Burning Glass Technologies identified over 1,500 new positions advertised for a cloud systems administrator. However, different companies may have the same position but under a different name — such as systems administrator, cloud administrator or cloud systems specialist.
Job Titles Related to Cloud Systems Administrator
Cloud integration specialist
IT systems manager
Will your next move be cloud systems administrator? If so, download the exam objectives for CompTIA Cloud+ to see what skills you need to get you there.