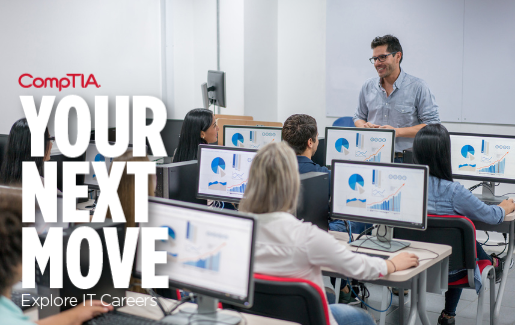 This article is part of an IT Career News series called Your Next Move. These articles take an inside look at the roles related to CompTIA certifications. Each article will include the responsibilities, qualifications, related job titles and salary range for the role. As you consider the next move in your IT career, check back with CompTIA to learn more about your job prospects and how to get there.
Not everyone in the IT field is self-taught. Many, if not most, IT professionals got to where they are with the help of instructors who brought the subject to life in a classroom or online. IT training specialists enjoy their subject matter but also enjoy inspiring and informing students. If you like translating tech topics so others can understand them and helping to promote IT careers, consider the role of an IT training specialist.
What Is an IT Training Specialist?
An IT training specialist may teach at a private or nonprofit college, university or technical school. The courses and topics covered can vary widely, from software development (i.e., coding) to basic network administration to more advanced information technology systems.
In addition to technical knowledge, instructors are often expected to prepare their students for the modern workplace, teaching them professional skills including how to collaborate with non-technical colleagues and how to communicate with the non-tech-savvy public.
An IT training specialist may also be expected to do the following:
Maintain classroom order and discipline so that every student can learn
Encourage and support students in their learning so no one gets left behind
Identify special needs of students and, in such cases, refer them to additional resources (e.g., mental health or academic counseling)
Attain and maintain industry certifications in the topics being taught
Travel to training locations as needed
An IT training specialist may need to be up to speed on A/V equipment for the classroom as well as web-based tools that allow for online distance instruction.
There are many parts of the role that vary based on the job and the employer. IT training specialists may work as an independent contractor for numerous clients or be salaried by one learning institution or organization as part of a department of instructors. They may deliver prepared curricula or be expected to generate their own lesson plans based on their own knowledge and expertise. IT pros who work for the government or large corporations are often expected to keep up their IT certifications, so instructors may be brought in to conduct training to help them prepare.

Interested in increasing your profile as a qualified trainer and enriching the lives of your students? Join the CompTIA Instructor Network.
How to Become an IT Training Specialist
Colleges and universities often require their instructors to have a teaching degree and/or teaching certification . But training positions with other organizations or corporations may not require a teaching degree.
For example, CompTIA Training Strategies Group (TSG) hires IT trainers to teach its fast-track, short-term classes. About 85% of TSG classes are currently offered in person instead of online. The topics range from industry-recognized certifications offered by CompTIA, Microsoft and Cisco, for example, to professional skills, Salesforce and business analysis.
"We look for men and women who are passionate about technology and passionate about people," says Turner said. TSG trainers come from a variety of backgrounds and typically don't have to develop their own course material.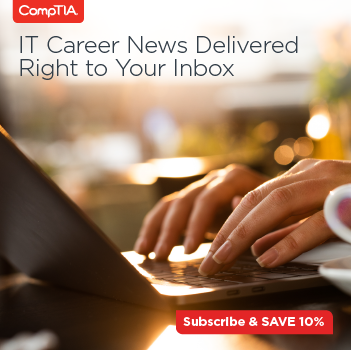 When it comes to training for IT certifications, an instructor is generally required to hold the certification that they are teaching to, and most training companies also prefer experience as a tech worker. In addition, successful instructors assume the student role quite often to stay up to date on knowledge and skills, as tech is always growing and evolving. The most successful instructors love to learn new things constantly.
Those with non-technical teaching experience can get started in IT instruction by earning certifications such as CompTIA IT Fundamentals (ITF+) and CompTIA A+. Check out the CompTIA Career Roadmap to see what other IT certifications can help you build a portfolio of knowledge to impart on others.

The Details
IT Training Specialist Salary
The salary for a post-secondary IT instructor, or IT training specialist, varies based on job responsibilities, company and location, but the median annual wage in May 2021 was $61,570, according to the U.S. Bureau of Labor Statistics (BLS).
IT Training Specialist Job Outlook
Because of the growing need for technology professionals, the demand for IT training specialists is likewise expected to grow 8% each year between 2021-2031, according to the BLS. If you want a stable career, IT training specialist is a good role to aim for.
Job Titles Related to IT Training Specialist
High school computer science teacher
Technical trainer
IT customer support trainer
Will your next move be IT training specialist? If so, download the exam objectives for CompTIA ITF+ and CompTIA A+ to learn more.