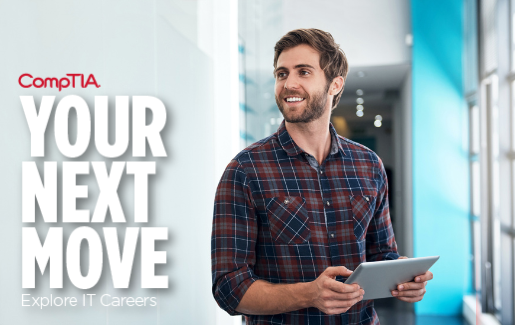 This article is part of an IT Career News series called Your Next Move. These articles take an inside look at the roles related to CompTIA certifications. Each article includes the responsibilities, qualifications, related job titles and salary range for the role. As you consider the next move in your IT career, check back with CompTIA to learn more about your job prospects and how to get there.
If you like being in the know about everything, being a security administrator could be a good fit for you. The security administrator is the protector of the system. They see everything that is happening and monitor activity to prevent attacks and stay secure against threats.
What Is a Security Administrator?
A security administrator is the point person for a cybersecurity team. They are typically responsible for installing, administering and troubleshooting an organization's security solutions. They also write up security policies and training documents about security procedures for colleagues.
Security administrators are responsible for the system overall rather than for specific parts. While network and systems administrators set up and maintain the system, security administrators take a step back for an overall view of security. Rather than focusing on hardware and software like their counterparts, they work to defend the system as a whole and keep it secure from threats.
A security administrator may have the following responsibilities:
Defending systems against unauthorized access, modification and/or destruction
Scanning and assessing network for vulnerabilities
Monitoring network traffic for unusual activity
Configuring and supporting security tools such as firewalls, anti-virus software and patch management systems
Implementing network security policies, application security, access control and corporate data safeguards
Training fellow employees in security awareness and procedures
Developing and updating business continuity and disaster recovery protocols
Security Administrator vs. Security Analyst
A security administrator encompasses everything from entry-level to mid-level responsibilities. The size of the company often determines the levels of responsibility associated with the security administrator role. Also, the job sometimes includes analytics. At smaller organizations, security administrator and security analyst may be one combined job role, while at larger organizations they may be separate.
How To Become a Security Administrator
Security administrators are the backbone of cybersecurity for any system. They protect against threats and attacks. They also help colleagues to protect themselves, making the system stronger as a whole.
Security administrator positions require varying levels of education, from associates to bachelor's. It depends on the company! However, most will require certifications. One highly sought-after certification by employers is CompTIA Security+. Because it's vendor neutral, the skills that it covers can be applied in any number of environments. It is the building block of your cybersecurity career.

The CompTIA Security+ certification provides the key skills needed by security administrators, including general security concepts, identity and access management, the change management process, cryptography and disaster recovery. It also covers the security principles required to harden and secure an enterprise infrastructure.
The Details
Salary Range for Security Administrators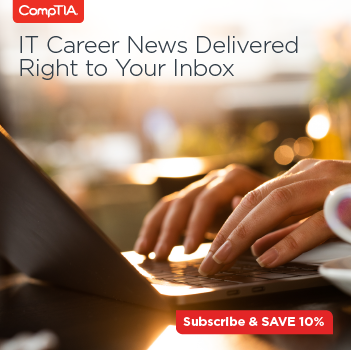 According to Cyberseek, the average advertised salary for a security administrator is $128,665.
Skills Needed by Security Administrators
The following skills may be required to be a security administrator:
Knowledge of common protocols such as SSL, HTTP, DNS, SMTP and IPSec
A strong understanding of firewall technologies
Packet shaper, load balancer and proxy server knowledge
Intermediate to expert intrusion detection system/intrusion prevention system knowledge
Deep understanding of IT infrastructure, including protocols, operating systems and networks
Job Titles Related to Security Administrator
Security manager
Information security manager
Information systems security officer
Check out the CompTIA Cybersecurity Career Pathway to begin your cybersecurity career.