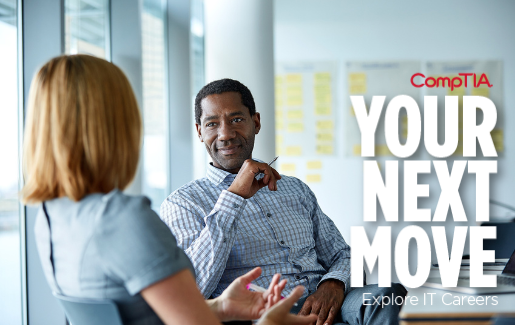 This article is part of an IT Career News series called Your Next Move. These articles take an inside look at the roles related to CompTIA certifications. Each article will include the responsibilities, qualifications, related job titles and salary range for the role. As you consider the next move in your IT career, check back with CompTIA to learn more about your job prospects and how to get there.
When a program, application or system isn't working out the way it should, an organization may go back to the drawing board to fix what isn't working or redesign something entirely. When this happens, a solution architect may be brought in. If you are an excellent problem solver with a knack for seeing the big picture, a career as a solution architect may be for you.
What Is a Solution Architect?
Like the title itself implies, a solution architect quite literally looks for solutions. A solution architect looks at the big picture when technological decisions are made by an organization and weeds out the non-functioning or low-functioning aspects of those choices, keeping in mind the overall needs that the solution should address.
Other duties of a solution architect may include the following:
Build computer and information systems that meet specific needs
Recommend and integrate software and hardware that will meet objectives
Examine current systems architecture and give recommendations
Organize development efforts and select team members
Communicate effectively with staff and clients, being able to explain complicated tech ideas in layman's terms
A solution architect bridges the gap between business problems and technology solutions. Someone in this role must be able to work with business leaders and have a vision of how things are supposed to look and operate. Additionally, a solution architect must lead a team of IT pros to make those visions happen while simultaneously keeping the big picture in mind when it comes to finding the best solutions.
In other words, a solution architect looks at each piece of the tech puzzle both individually and all together, and then analyzes whether or not things are working well together. This role is essentially a compass for when technological planning and decisions need to happen. A solution architect provides information and guidance before a single line of code is written.
How to Become a Solution Architect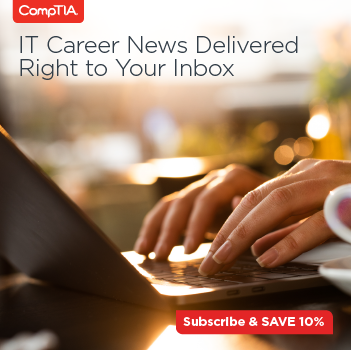 Solution architect is an advanced-level IT job. Most companies hiring a solution architect are looking for someone with a bachelor's degree in computer science, information technology or something in the engineering field. Some solution architects have advanced degrees, as well.
Many solution architects previously worked on system or software development teams, perhaps starting out as software developers or testers. IT jobs like network administrator and QA analyst could also be stepping stones to solution architect. Before becoming a solution architect, many that hold this position were previously project managers.
Getting IT certifications like CompTIA Network+, CompTIA Cloud+ and CompTIA Linux+ early on can help you build a solid foundation of skills to move into the role of solution architect. Check out the CompTIA Career Roadmap to see what other certifications can help you become a solution architect.
The Details
Solution Architect Salary Range
In May 2021, the average salary for a solution architect was $120,520 (U.S. Bureau of Labor Statistics (BLS)).
Solution Architect Job Outlook
According to the BLS, the expected job growth between 2021 and 2031 is 4% for solution architects.
Job Titles Related to Solution Architect
Enterprise architect
Technical architect
Will your next move be solution architect?Check out the CompTIA Career Roadmap to see how to get there.